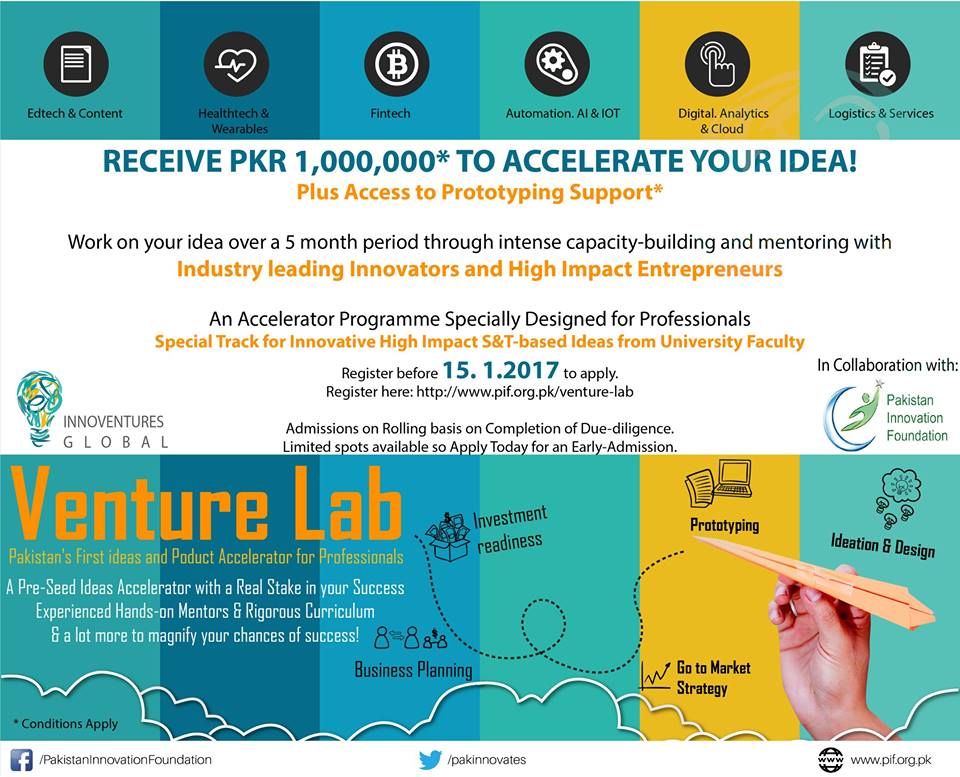 Thank you for your interest in Venture Lab – INNOVenture Global's Pre-Seed Ideas Accelerator for Professionals and University Faculty, delivered in collaboration with Pakistan Innovation Foundation.
VentureLab is an Ideas Accelerator specially designed for Professionals and University Faculty working full-time jobs but with a great idea and not sure of whether it could be transformed into an awesome commercial opportunity.
VentureLab takes you through a 5-month long rigorous, but guided, process to validate the idea – and your own potential as an entrepreneur – with the help of extensive hands-on mentoring by industry leaders and experienced entrepreneurs with a real stake in your success, a rigorous and tested curriculum that helps you advance your idea, and access to global networks.
INNOVentures' partners are experienced entrepreneurs and hands-on mentors who guide you through your journey during and after the VentureLab process.

Please fill out the pre-application form to request a first meeting to discuss your idea and its potential. If we find your idea attractive, we will schedule due-diligence before deciding upon your admission in the accelerator.
In order to qualify you must:
a) Have a ground breaking idea with the potential to become a global commercial opportunity
b) Have unrestricted and undisputed intellectual property ownership of your idea as an individual or a team.
c) Willing to commit a significant amount of time for the next 5 months dedicated to validating your idea while keeping your job!
d) Willing to consider quitting your job after VentureLab process or entertain the possibility of handing over your idea to an entrepreneurial team working with you.
c) Willing to become a startup CEO/CTO/CSO to put in stupendous amounts of time after VentureLab process to make your idea a global commercial opportunity.
Registrations are now closed

Contact: info@innoventuresglobal.com