STEMx
In Collaboration with
Pakistan Innovation Foundation
PROUDLY PRESENTS
STEM 2022 – Pakistan's Coolest STEM School for 2022

—
PREVIOUSLY:
AFTER A SMASHING AND EVENTFUL 2020, STEMx is proud to announce our programme for 2021 with a number of talk series (STEM:NEXT), a science bowl, advanced STEM offerings (STEM 2.0), a Science Teachers Workshop, all leading to our flagship 10-day STEM programme (STEM 2021).
Registrations are also now open for:
ARE YOU A 12-18 YR OLD WITH DREAMS AS BIG AS CURIE'S, HAWKING'S, OR MUSK'S?
A series of public lectures and talks by some of the most Eminent Scientists, Makers and Innovators as a prequel to the STEM 2021.
STEM:NEXT shall run all through Nov 2021 and will feature exciting scientists, scholars, and innovators.
Come join us to listen to your favorite and most awe inspiring speakers from public health, theoretical physics, neurology, computer science, experimental physics, and synthetic biology and answer challenging quizzes to WIN a chance to become part of STEMx's Class of STEM 2021.
Please visit our website for further details, including financial aid.
Lectures begin on Nov 15, 2021.
Don't miss your chance to be in the company of the Superstars of STEM!
Due to the unusual circumstances this year, STEM:NEXT WAVES will run in July, Nov, and Dec 2021. 
If you'd like to Register, please do so (Register here). You may also complete all formalities to reserve your spot on the programme.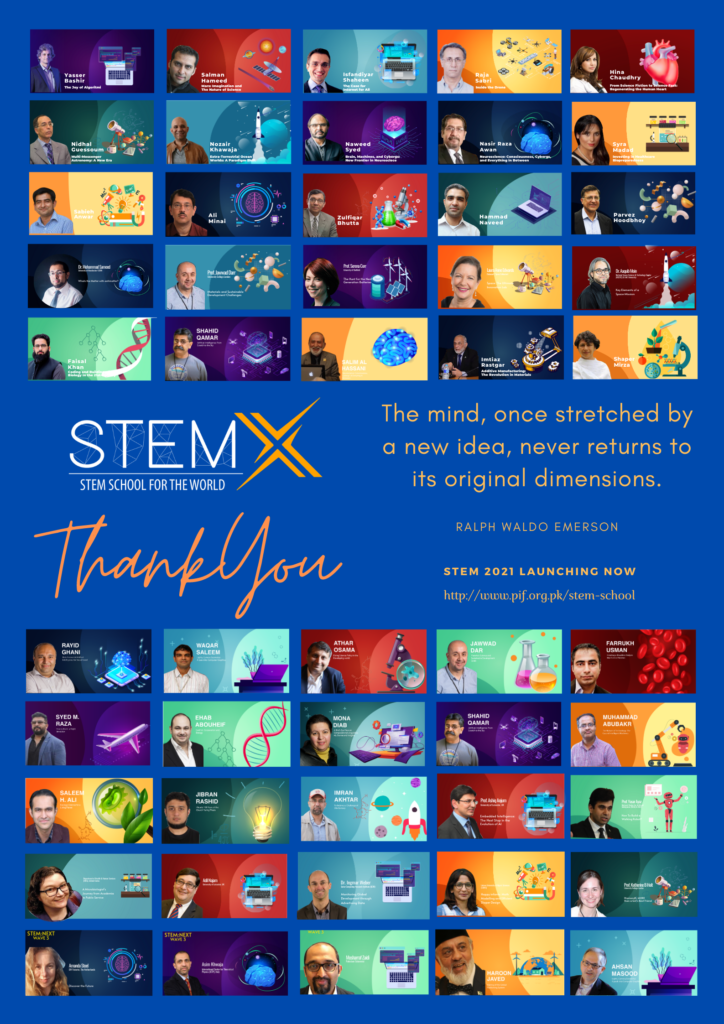 STEM2020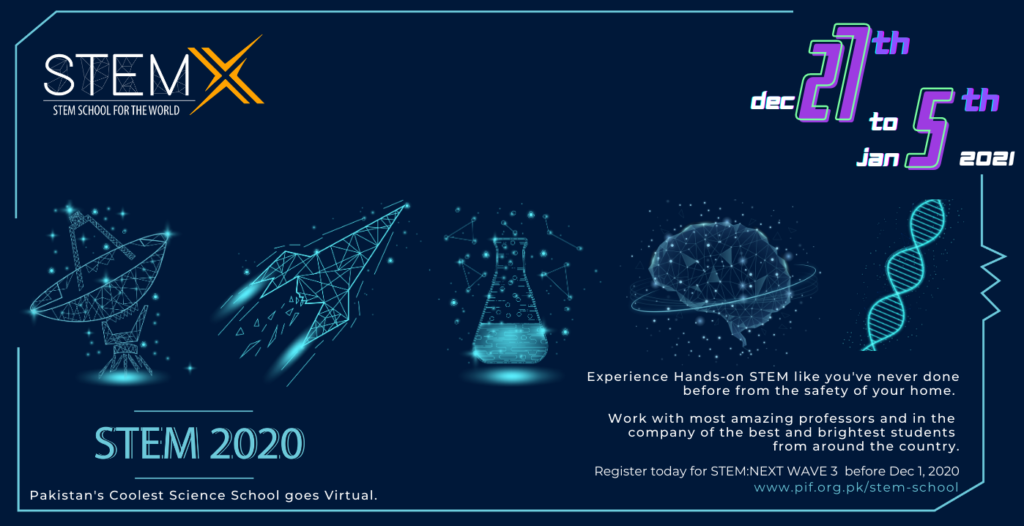 Welcome to STEM 2020 – Pakistan's Coolest Science School!
This year's STEM 2020 Programme will run from Dec 27 to Jan 5, 2021* will offer thematic concentrations** in:
Experimental Physics
Astronomy
Aeronautics
Synthetic Biology
Computational Biology, and
Quantum Programming
Due to the unprecedented circumstances this year, we are not only going virtual but also re-thinking the whole concept of National STEM School applications, admissions, and the learning process!
Unlike the detailed application, online test, and in-person interviews in past years, this year's admission process will be far more interesting, inclusive, and participative.
—
WE ARE INTRODUCING STEM: NEXT WAVE 3
A series of talks by eminent scientists, makers and innovators as a prequel to the STEM School 2020.
You will listen to and actively participate in 12 Science Talks and Public Lectures – one every day (except weekends) – via Zoom from Dec 7, 2020 through Dec 19, 2020 and will answer short quizzes pertaining to each of these. These quizzes will not just test the knowledge grasped from the speaker but also make you think hard and do your own little research.
STEM:NEXT Wave 3 is the toughest of the 3 qualifying rounds for STEM 2020. Wave 1 Students had the option to take 12 best of 18 quizzes and Wave 2 Students had the option to take 12 best out of 15 quizzes to be considered for qualifying for STEM2020.
Wave 3 will offer no such choice and candidates must attend all 12 out of 12 quizzes to qualify. These quizzes will challenge your intellect and in order to qualify you must demonstrate ability to absorb knowledge, build upon it, and solve tough problems. But testing your mettle against the best and the brightest could be super fun too!
In order to compete, you must fill out the form (here). You will receive an email with details regarding tuition fee, etc. Once you submit us your fee challan, you will receive a private login and password to participate in the talks.
In order to qualify for STEM 2020, you must attend 12 talks and answer quizzes.  An applicants 12 best quizzes will be used to calculate their score so attending and answering more will be an additional advantage. Highest scoring candidates may be required to appear in an interview before final selection for STEM 2020.
Upon sole discretion of the STEM School Mgmt, the talks may be made open to the public via Facebook. However, subsequent Q&A sessions and followup quizzes will only be accessible to the registered applicants.
However, should one register late, he/she may be able to view the full recordings of the past sessions and attempt the quizzes until the Quiz completion date.
Important Information:
Eligible Age: 12 yrs to 18 yrs.
Eligible Location: Any
Themes: Physics, Biology, Astronomy, Aeronautics, and Computer Science
Tuition Fee, Financial Aid, etc. 
The Tuition Fee for STEM: NEXT  Wave 3 is PKR 5000/- (or $75 for foreign or expat students) for 12 Talks payable at once (and non-refundable). This fee of the qualifying candidates will be adjusted against the programme fee for the STEM 2020 Programme.
STEM 2020 Programme Fee shall be PKR 25,000 (or $200 for foreign or expat students) is payable only after a student qualifies and a provisional offer for  admission is made. This fee will cover the cost of shared/returnable equipment, etc. The selected STEM 2020 students will receive Physics, Biology, and Aeronautics kits they would use to work individually or in small groups in a socially distanced manner in the comfort of their homes.
However, as per STEM School Policy and Tradition, no student is ever denied admission for lack of financial resources. Therefore, any deserving student with a valid proof of financial need (such as school fee challan) will be able to receive either a 50% discount or can pay a fee equivalent to one month's tuition fee (however small this may be). If you're applying for financial aid, please upload a copy of your school fee challan to receive the fee discount.
Important dates to consider:
Registration Opens: Nov 15
Science Lectures Begin: Dec 7
Registration Through: Dec 5
Quiz Completion by: Dec 20
Admission STEM 2020: Dec 23
REGISTER HERE BEFORE Dec 5, 2020 (Register here)
* Dates subject to minor changes due to COVID19 disturbances.
** Themes are each subject to critical mass of students attending.
*** STEM NEXT Wave 3 is currently scheduled from Dec 7 to Dec 19 (12 lectures on consecutive days). However, these dates may be subject to change due to any emerging COVID19 circumstances.
 [END OF ANNOUNCEMENT]
———————————————————————–
—
Previously on National STEM School:
STEM:NEXT WAVE 1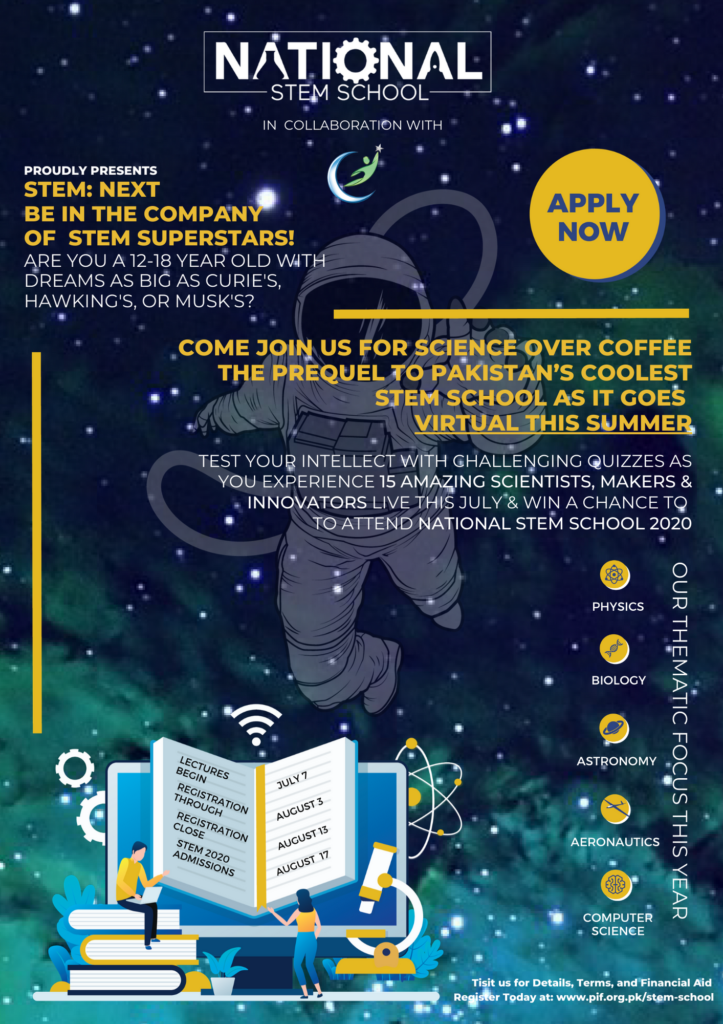 National STEM School: Makers Summer Camp 2019
The National STEM School: Makers Summer Camp is a 10-day residential adventure for 13-17 year olds to come and experience the excitement of making, building, and breaking things! In its 2nd year now, Makers Summer Camp is an annual programme designed to bring the best and brightest makers and tinkerers from across the country and give them 'wings' to realise their dreams!
Now in its 4th year, National STEM School so far has produced 150+ high-achieving and amazing alums who have inspired us by going to places, getting admissions in some of the leading universities, and winning competitions around the world.
Makers Summer Camp 2019 is being brought to you in collaboration with College of Electrical and Mechanical Engineering (CEME) at Rawalpindi for July 22-31, 2019.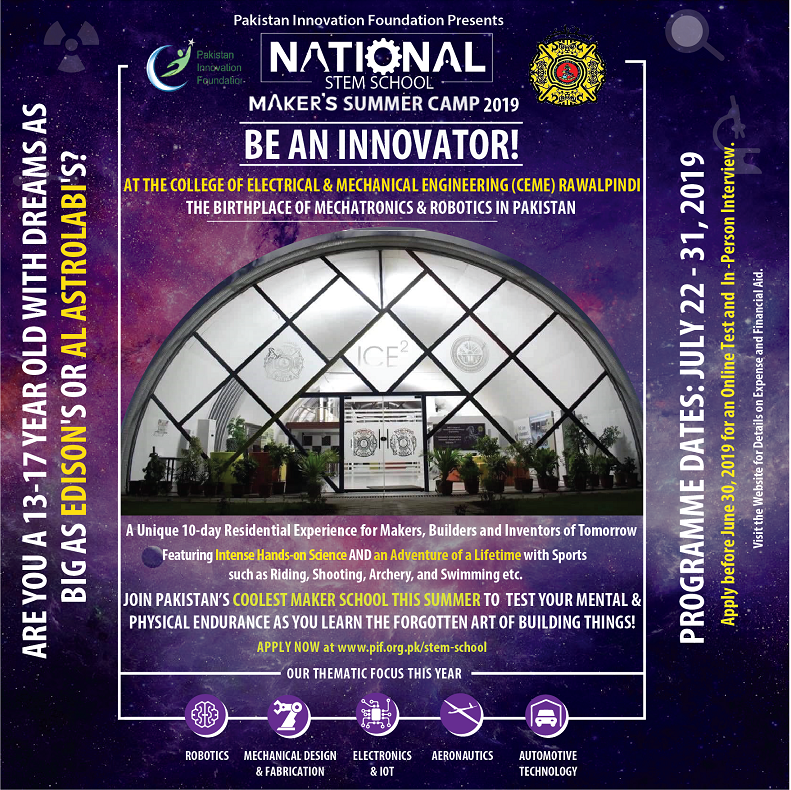 Application deadline is June 30, 2019.
————————————————————————-
National STEM School 2018 at LUMS
The National STEM School is a 10-day residential programme for 13-17 year olds to come and experience the excitement of learning science by doing science and building things! The National STEM School is an annual programme designed to bring the best and brightest students from across the country and give them 'wings' to realise their dreams!
Pakistan Innovation Foundation (PIF) organised the National STEM School for the first time at the Lahore University of Management Sciences (LUMS) in December 2016. The National STEM School 2018 is being organised in collaboration with Lahore University of Management Sciences, Institute of Integrated Biosciences (IIB) at CECOS University, School of Metallurgical and Manufacturing Engineering (SMME) at NUST, Khwarzimi Science Society (KSS), and Zeds Astronomical Observatory from December 27, 2018 to January 5, 2019 at LUMS.  This unique 10-day residential programme will bring together some of the brightest students from across Pakistan to experience hands-on science like never before.
Registrations are now open for National STEM School 2018 – 19 . Selection shall be made on the basis of questions addressed in the registration form, online test and an in person interview.
This years theme:
Programme Fee is PKR 25,000, which does not include travel costs.
Need-based Full and Partial Scholarships that cover travel and board are available for Pakistan-based Candidates. No selected candidate shall be denied the opportunity for financial reasons. Please identify in the registration form if you have a financial need.
Oversees Pakistanis and Expats' students are also welcome. Parents are encouraged to write to info@pif.org.pk to inquire about Fees and Logistical Arrangements.
Objectives of the National STEM School:
The Objectives of the programme are:
1) To enable young learners to understand what science really is, how scientists think (and work)?
2) To help young learners experience the excitement of hands-on science and technology in a challenging yet cooperative environment
3) To impart the skillset and excitement of 'building' things and doing 'hands-on' science thus creating a culture of making in Pakistan.
Here is a glance at our STEM Future Scientists from 2016 , 2017 and 2018.