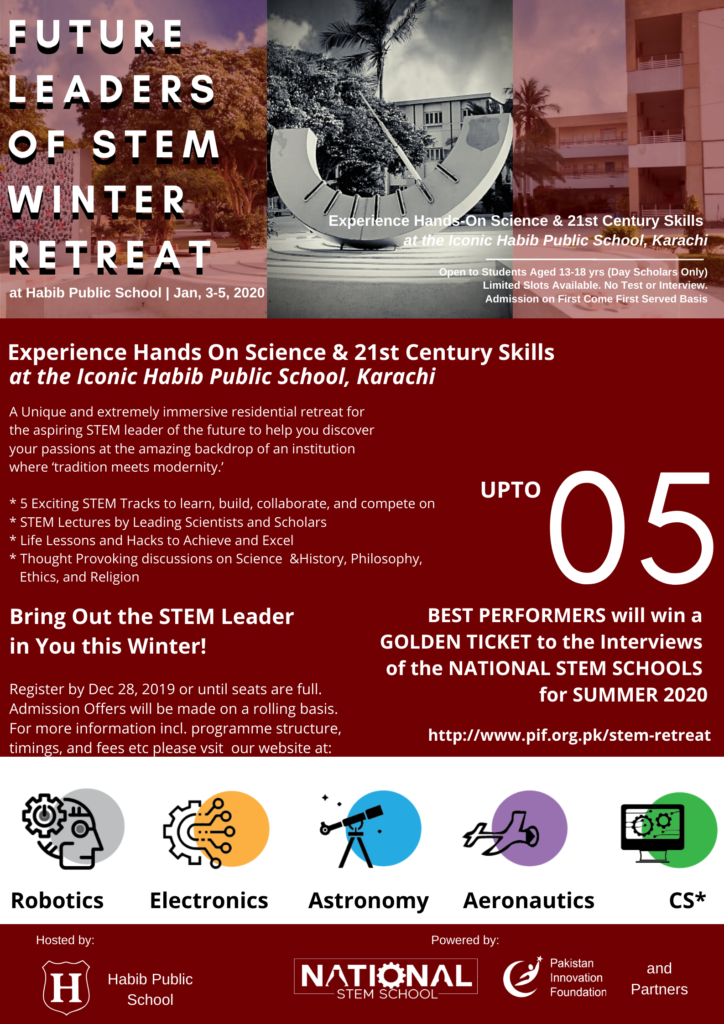 The Future Leaders of STEM Retreat is a unique and intense 3-day Summer Camp for 13-18 year olds from all across the country to experience hands-on Science, 21st Century Skills, and much more in the backdrop of the Iconic Habib Public School, Karachi.
The STEM Leaders Retreat is brought to you by Pakistan Innovation Foundation – PIF AND The National STEM School, in partnership with Habib Public School (Enrichment Office) and partners Pakistan Space Science Education Center (PSSEC), POPUP Learning / Tajarbagah, College of Electrical and Mechanical Engineering (CEME), and CECOS University.*
THE RETREAT Offers:
* 4-5 Exciting STEM Tracks to learn, build, collaborate, and compete on
* STEM Lectures by Leading Scientists and Scholars
* Life Lessons and Hacks to Achieve and Excel
* Thought Provoking discussions on Science & History, Philosophy, Ethics, and Religion.
Upto 5 BEST PERFORMERS at the STEM LEADERS RETREAT will get a Golden Ticket to the Interviews of the National STEM Schools during Summer of 2020.
The STUDENT must be 13-18 year old to apply.
There is NO TEST or INTERVIEW to attend.
Admissions on FIRST COME FIRST SERVED BASIS.
APPLY NOW to book one of very limited number of seats!
PROGRAMME FEE is PKR 15,000, which does not include travel costs. Programme is for Day Scholars Only.
10% Early Bird Discount for those completing the admission process before Dec 23, 2019.
Oversees Pakistanis and Expats' students are also welcome. Oversees Parents are encouraged to write to info@pif.org.pk to inquire about Fees and Logistical Arrangements.
IN ORDER TO CONFIRM YOUR SPOT, you must do the following:
STEP 1: Fill out the Registration Form (Day 1)
STEP 2: Confirmation of Eligibility/Selection plus Payment Details (by Day 3)
STEP 3: Deposit Payment and Submit Proof of Payment (by Day 5).
* To be Confirmed.