(REGISTRATION FORM FOR HOLISTIC SCIENCE TEACHING WORKSHOP & FELLOWSHIP)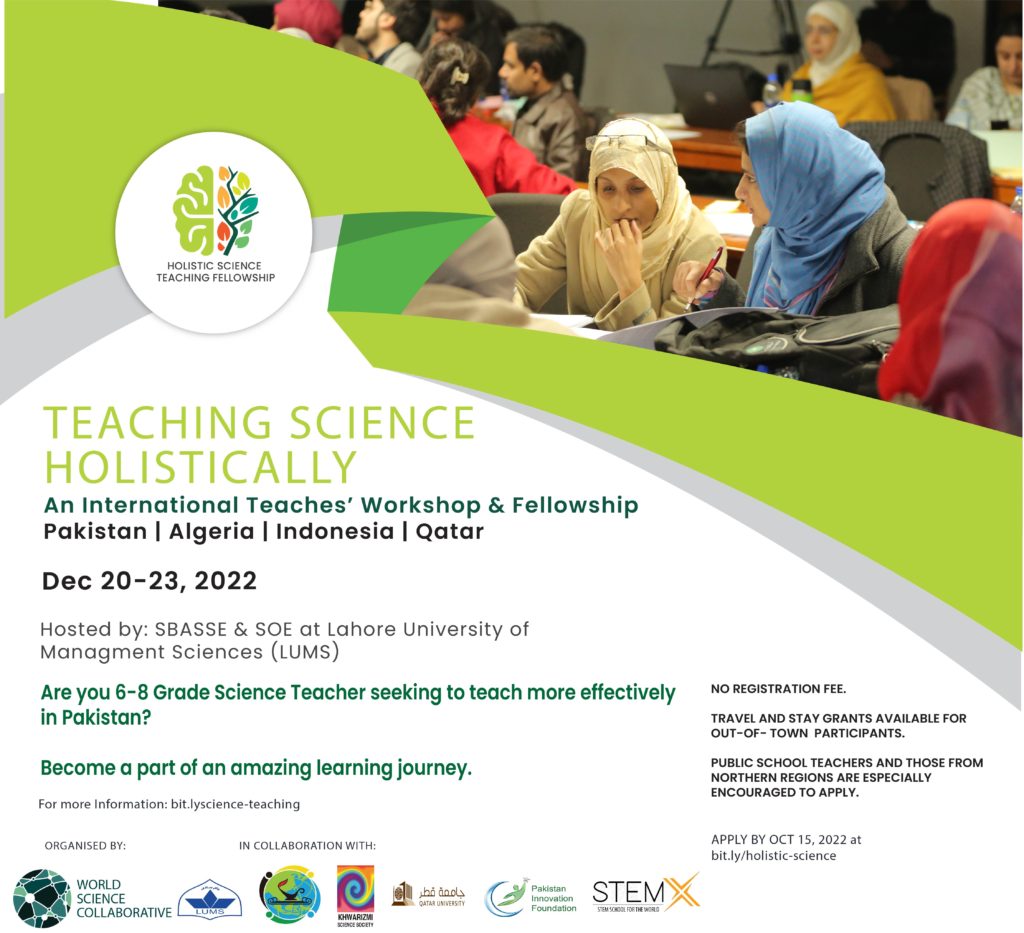 Holistic Teaching of Science: An International Teachers Workshop & Fellowship (REGISTER HERE)
World Science Collaborative Ltd, in collaboration with, Lahore University of Management Sciences (LUMS), The Aga Khan University – Institute of Education Development (AKU-IED), South East Asian Ministerial Organisation (SEAMEO), Indonesia, and Qatar University, Qatar, as well as partners  Khawarzimi Science Society (KSS), Lahore; Pakistan Innovation Foundation, Pakistan, and STEMx – STEM School for the World, Islamabad presents a unique workshop to enable teachers to explore and learn how to teach science holistically.
In our society, teaching of science is often extremely compartmentalised whereby the science teacher delivers the content in the classroom but does not relate what is being taught to the real world nor brings forth (or draws upon) the diverse body of knowledge available in disciplines such as history, philosophy, religion and ethics. In doing so, he/she runs the risk, at the very least, of leaving the scientific learning unconnected, or much worse, leaving the students more confused than informed.
It is absolutely critical, therefore, to teach science holistically i.e. connect the learning in the classroom with the real world, for example, by:
* Bringing together knowledge from diverse sources and disciplines such as science, history, philosophy, religion, and ethics?
* Using hands-on experiments and play to bring inspiration and insight in the science classroom?
* Planning lessons that adequately address the curious minds of students and encourage critical inquiry?
*  Addressing Big Philosophical Questions that stem from scientific discoveries such as Big Bang, Multiverses, Genetics, Evolution, Artificial Intelligence, etc.
The Holistic Teaching of Science Workshop is OPEN to ALL Teachers of Science in Middle School (Grades 6-8) at any public, private, or religious (madrassa) school who struggles with teaching modern science in the classroom and wants to do better.
The Holistic Science Teaching Workshop is 1 of 4 Workshops that will be carried out in Pakistan, Indonesia, and Qatar between Dec 2022 and July 2025. The Team comprises some of the leading researchers and scholars such as:
Dr. Nidhal Guessoum, Professor of Astrophysics, American University of Sharjah (AUS), Science Communicators, and author of Young Muslim's Guide to Modern Science
Dr. Noman ul Haq, Prof and Dean of School of Humanities and Liberal Arts at University of Management and Technology, Lahore, Pakistan
Dr. Farid Panjwani, Director of Center for Research and Evaluation in Muslim Education (CREME), UCL Institute of Education, London, United Kingdom
Dr. Faisal Bari, Professor and Dean, School of Education, Lahore University of Management Sciences (LUMS) Lahore, Pakistan
Dr. Sabieh Anwar, Physicist and Science Communicator, Lahore University of Mgmt. Sciences (LUMS) and the co-founder of Khawarzimi Science Society (KSS)
Dr. Faisal Khan, Asst Professor, Swat University of Engineering and Technology, Swat and co-Founder Peshawar 2.0
Dr. Abubakr Muhammad, Professor and Director of Center for Water Informatics WIT), Lahore University of Mgmt. Sciences (LUMS)
Dr. Tasneem Anwar, Asst. Prof. of Science Education, AKU-Institute of Educational Development, Karachi, Pakistan
Dr. Nasser Mansoor, Associate Professor of Science Education, Exeter University and Qatar University, Doha, Qatar
Dr. Indarjani S Soeratno, Professor and Dean, School of Sciences and Technology, Islamic University of As-Sayaffiah (UIA), Jakarta, Indonesia
Dr. Soufia A Siddiqi, Asst. Professor, LUMS School of Education, Lahore University of Management Sciences, Lahore, Pakistan
Dr. Athar Osama, Science Policymaker and Founder of Pakistan Innovation Foundation and STEMx, Pakistan
THE APPLICATION PROCESS:
Stage 1: Teachers are welcome to apply through our application form by Oct 15, 2022.
Stage 2: Teachers will be longlisted and invited to an interview between Oct 15 and Nov 15, 2022.
Stage 3: Shortlisted teachers shall be invited to submit a Video Recording of a Live Lecture in the Classroom + Letter of Support from their principal/academic supervisor indicating that they have permission to apply the learning in the classrooms.
Stage 4: A Final List of Selected Teachers shall be announced by Dec 10, 2022 after consultations with Principals/Academic Coordinators to assess their willingness and support.
Fellowship Commences Dec 20-23, 2022 via Holistic Science Teaching Workshop.
The Language of the Workshop shall be English. Functional understanding English is mandatory. However, supplementary support for Urdu may be available to teachers who may need it.
Answers to the ESSAY QUESTION may be given in ENGLISH, or URDU text, or through a RECORDED VIDEO MESSAGE.
REGISTRATION:
There is NO REGISTRATION FEE.
Teachers from areas outside Lahore/Punjab (particularly Northern Areas, Sindh, and KP) are eligible for a travel scholarship to attend the workshop.
Limited Seats (35-40) are available so apply as soon as possible. Admissions may be made on a rolling basis for the convenience of the attendees.
Apply here no later than Oct 15, 2022 for an opportunity to attend the workshop and join the Fellowship.