NATIONAL STEM SCHOOL
In collaboration with
PAKISTAN INNOVATION FOUNDATION
presents
STEMx – Game Design and Development Workshop for Kids 10-18
CREATING A BETTER WORLD BEGINS BY IMAGINING ONE
JOIN STEM SCHOOL'S GAME DESIGN WORKSHOP FOR KIDS AND WIN!
National STEM School, in collaboration with Pakistan Innovation Foundation, announces a Game Design Workshop for kids 10-18 that will prepare them to code a game for submission to the global Code Game Challenge by XPrize Connect!
Creating a better world starts with imagining one. Young innovators ages 10-18 across the globe are invited to create new fun games that envision and ultimately help build a better future for everyone. By incorporating inspiration and creativity from the next generation, these new games will allow young creators to hone critical skills in coding and game design to shape the technology in their world, rather than be shaped by it. Join the challenge to create fun and immersive video games that entertain and dare to imagine creative solutions to some of the biggest global challenges.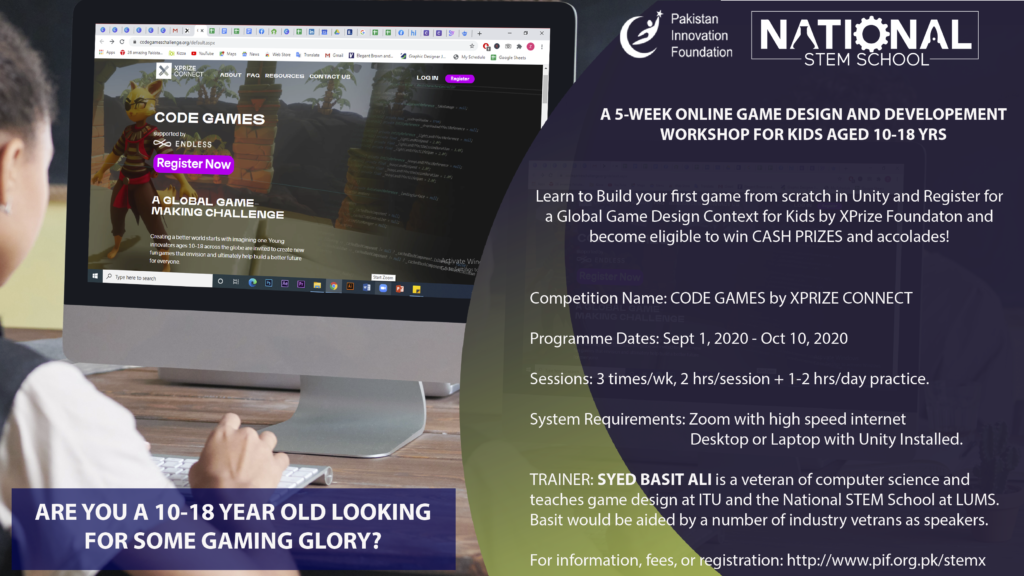 A 5 week hands-on Game Design and Development Workshop will run from Sept 1 to Oct 10th, 2 hours a day, 3 days a week plus 1-2 of practice every day. Kids will learn to design and develop a game on Unity and publish it on CodeGames platform (https://www.codegameschallenge.org)*
Salient Details:
Competition Name: CODE GAMES CHALLENGE by XPRIZE CONNECT
Programme Dates: Sept 1, 2020 – Oct 10, 2020
Sessions: 3 times/wk, 2 hrs/session + 1-2 hrs/day practice.
System Requirements: Zoom with high speed internet
Desktop or Laptop with Unity Installed.
Programme Fee: PKR 15,000/-
Course Instructor: The Course will be taught be the amazing Syed Basit Ali who runs Game Design Courses for ITU as well as the STEM School at LUMS. Basit is excellent with kids and really works well with them.
Apply by filling out the form below by: Aug 28, 2020
* Terms and conditions of the international competition apply.
Undertaking: By filling out this form, you are agreeing for National STEM School, and its partners, Pakistan Innovation Foundation, to hold your information securely on its servers for an unlimited period of time and to share information about upcoming opportunities and courses that may be of interest to you. NSS or PIF will not, however, share this information with any third party for any purpose, except when required by law. 
—
Prior Programmes:
STEM 3.0: A Once in a Lifetime Research Internship Experience for Teen Scientists