NOMINANATION: PAKISTAN'S MOST INSPIRING STEM TEACHER PRIZE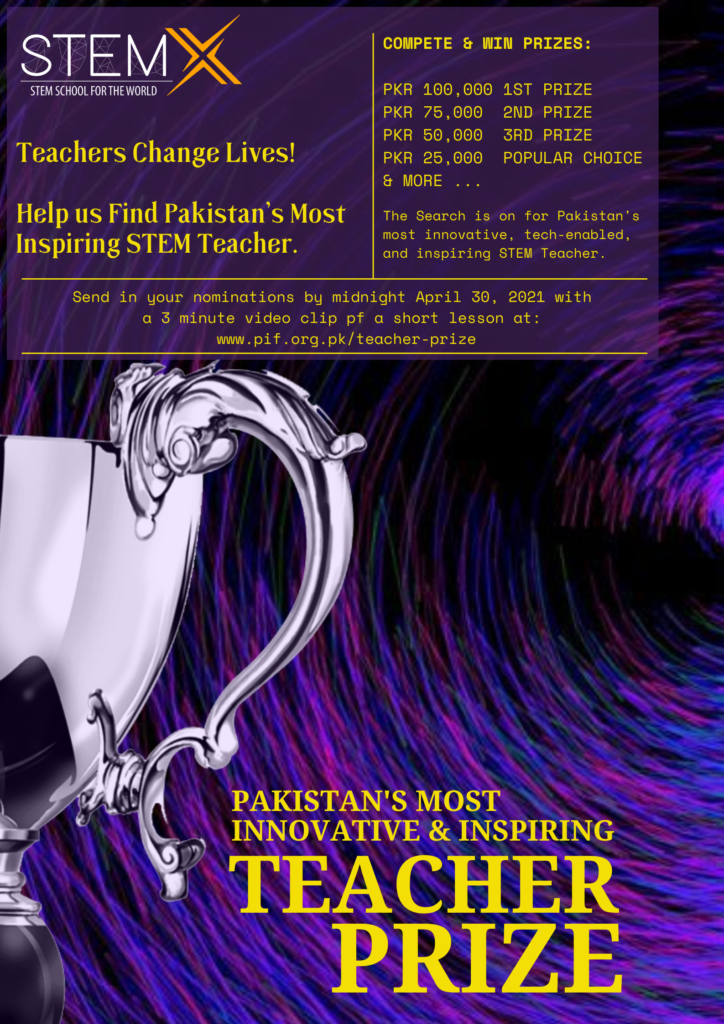 Pakistan Innovation Foundation and STEMx are launching a Competition to identify Pakistan's MOST INNOVATIVE &  INSPIRING STEM TEACHERS from across the country!
The Competition is OPEN to ALL TEACHERS in public, private, and non-profit sectors as well as non-traditional settings.
K-12 Teachers are able to self-nominate themselves by filling out the following form and attaching the url for a 3-minute Lesson Video featuring them delivering a lecture in Maths or Science (including Physics, Chemistry, and Biology).
The Competition shall be carried out in 3 stages:
Stage 1: Scrutiny of Application and Lesson Videos (LongListing of Selected Teachers)
Stage 2: Judging + Online Live Voting of Submitted Videos (ShortListing of Finalists)
Stage 3: Additional Scrutiny and Due-Diligence including Impact Claims (Announcement of Winners)
Teachers will be assessed on:
Pedagogical Innovation
Use of Technology
The Flair for Teaching
Verifiable Impact
The Winners shall receive Cash Prizes (PKR 100K, 75K, 50K and 25K), an Opportunity to Participate in Future STEMx Capacity Building Workshops, community appreciation and recognition through their Lessons Showcased to a wider audience.
NOTE: By submitting your information through this form, you agree to allow PIF/STEMx (or its partners) to share information and invitations for future events and activities with you. PIF/STEMx also reserves the right to use the submitted videos and other materials on its platforms and ways to showcase/market the individual teacher and the Teacher Prize. We will not, however, share identifiable information with anyone for any other purpose, except as required by Law.