National Innovation Grand Challenge (NIGC):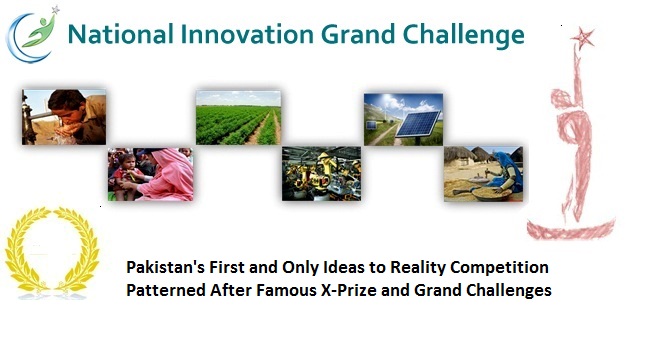 An Open Innovation Challenge for Pakistani Students, Entrepreneurs, Companies and Citizen Innovators. The National Innovation Grand Challenge is Pakistan Innovation Foundation's 'Signature' Launch Initiative. NIGC is a 8-month long Open Innovation Challenge aimed at inspiring and energizing Pakistani youth, students, professionals, and citizen innovators to find innovative solutions to Pakistan's development challenges and enhance its competitiveness.
This is achieved through a series of 'branded' prizes (such as Indus Motor Company's IMC Industrial Innovation Prize or Pakistan Poverty Alleviation Fund's PPAF Agriculture and Rural Development Prize) that are backed by sponsors with strategic interests in the development of these respective areas.
Divided in 3 Phases ('Design', 'Prototyping',  and 'Demonstration'), the NIGC process focuses on energies and talents on solving specific problems in Energy, Water and Climate, Health and Sanitation, Agriculture and Rural Development, Urban Problems, and ICT for Development. In addition to the specific problem statements, PIF also provides year-round mentoring, training, networking, and possibly seed capital to help participating teams beat the challenge.
Watch Promotional Video of National Innovation Grand Challenge (here)
Click here to keep updated about The National Innovation Grand Challenge (here) Or visit our Facebook Page (here).