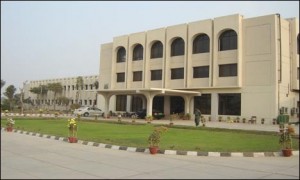 Scientists at National Institute of Biotechnology and Genetic Engineering (NIBGE) in Faisalabad, Pakistan have developed a patented a novel approach to creating insect resistent Cotton. They have done this by decoding the DNA structure of the venom of Australian Funnel Web Spider and expressing its Hvla Toxin (Hvt) gene into a new transgenic Cotton variety that is resistent to both American and Army Ballworms. The work by the NIBGE Team comprising Sher Afzal Khan, Yusuf Zafar, Rob W. Briddon, Kauser Abdulla Malik, and Zahid Mukhtar has received worldwide attention and acclaim and a number of papers have been published detailing the results (e.g. here)
NIBGE patented the Hvt Cotton in 2004 and is pursuing biosafety trials to commercialise. Commercialising this might enable Pakistan to save precious royalty payments to foreign companies that own patents on rival transgenic cotton varieties such as Bt Cotton. NIBGE also wants to keep this Hvt Cotton royalty free for maximum adoption and economic impact.
One of the scientists – Dr. Yusuf Zafar – was selected last year as the Scientist of the Year 2012 by International Cotton Advisory Committee (ICAC). Another – Kausar Malik – is a Board Member of Pakistan Innovation Foundation (PIF).