Best Case Presentation Contest on Educational Innovations
at The 12th AKU-IED International Conference on Technology, Pedagogy, and Society
(Scroll below to fill out the Nominating form)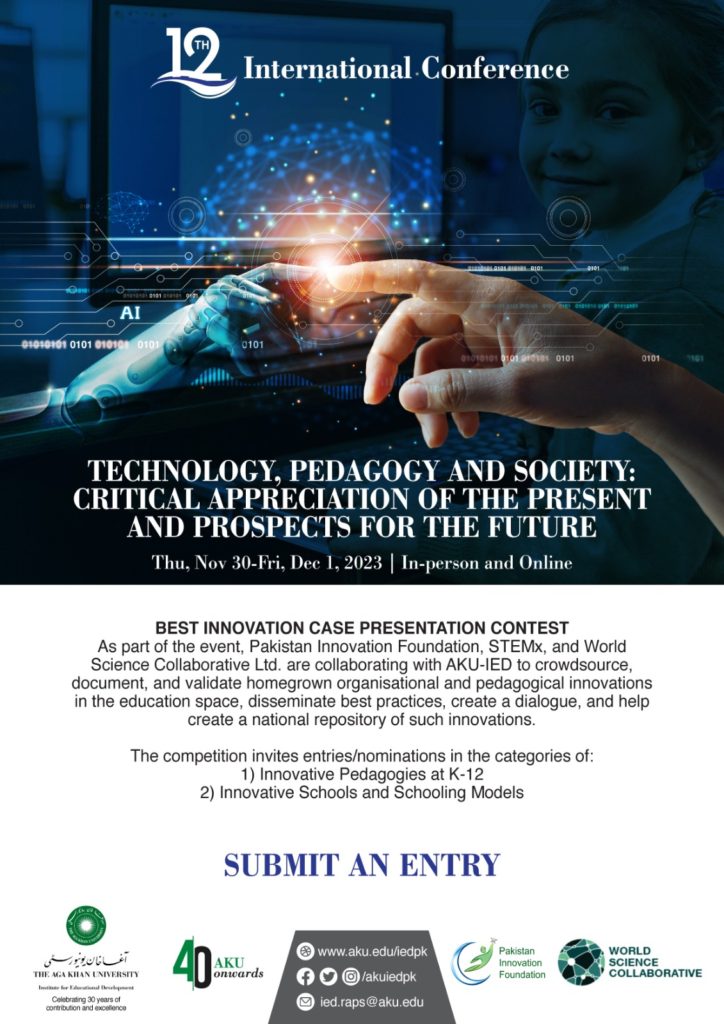 Pakistan Innovation Foundation, STEMx, and World Science Collaborative Ltd are collaborating with AKU-IED to organize a Best Case Presentation Contest on Educational Innovations alongside the 12th AKU-IED International Conference on Technology, Pedagogy, and Society: Critical Appreciation of the Present and Prospects for Future on Nov 30 – Dec 1, 2023 at Karachi. The purpose of the contest is to crowdsource, document, and validate homegrown organizational and pedagogical innovations in the education space, disseminate best practices, create a dialogue, and help create a national repository of such innovations. The competition seeks to invite entries/nominations in two related categories:
Innovative (Teaching) Pedagogies at K-12
Innovative Schools and Schooling Models
Most Innovative Teaching Pedagogies may include any innovative and locally designed teaching pedagogies in Language, Arts, or STEM learning that can be demonstrated to have a verifiable impact to the learning and non-learning outcomes of students.
Most Innovative Schools and Schooling Models may include private, public, non-profit, religious, online, homeschooling, or other non-traditional schools and schooling models that have attempted to tackle education differently. The specific innovations may include: innovative ways of organizing, recruiting students, financing, teaching or any innovative mix of curricular and non-curricular activities that can be demonstrated to have made a verifiable difference on educational and non-educational outcomes of the students.
The 3 Best Case Presentations shall win prizes of PKR 150K, 100K, and 50K sponsored by WSCL. Top-10 Educational Innovations shall be written up as Mini-Cases and shared via on/offline platforms.  All invited Educational Innovations (Pedagogies+Schools) shall be documented as part of a national repository and will be available on a website for dissemination and sharing.
The process will comprise of 3 stages:
(Self) Nominate via filling out an online form by June 5, 2023

Initial Screening

via desk review and interviews and shortlisting of innovations by July 20, 2023
Submit of Final Case + Powerpoint Presentation by Oct 15, 2023

Case Presentations and Declaration of Winners

at AKU-IED Conference on Nov 30 – Dec 1, 2023
The Jury for the Selection of Final Winners shall be announced by Pakistan Innovation Foundation/STEMx and AKU-IED.
An important part of this exercise is to enable Pedagogical and Organisational Innovations to be written in a rigorous and evidence-based manner as Case Studies in Education Innovation and published.
Nominators are requested to be generous in nominating the best possible innovations without worrying about evidence for impact at this stage. It may be possible to look at the need or availability of such evidence and make a decision based on that assessment later. PIF/STEMx shall provide research support for identifying such data and writing of these Case Studies and thus helping create an evidence-based argument for impact.
WSCL/PIF/STEMx shall explore publishing the repository and resulting mini-cases on appropriate platforms with AKU-IED and other partners.
Use the following form to Nominate