PAKISTAN 2047 INITIATIVE AND DREAM PAKISTAN PROJECT
         PAKISTAN 2047 NATION BUILDERS FELLOWSHIPS
(Click here to apply for the Fellowship)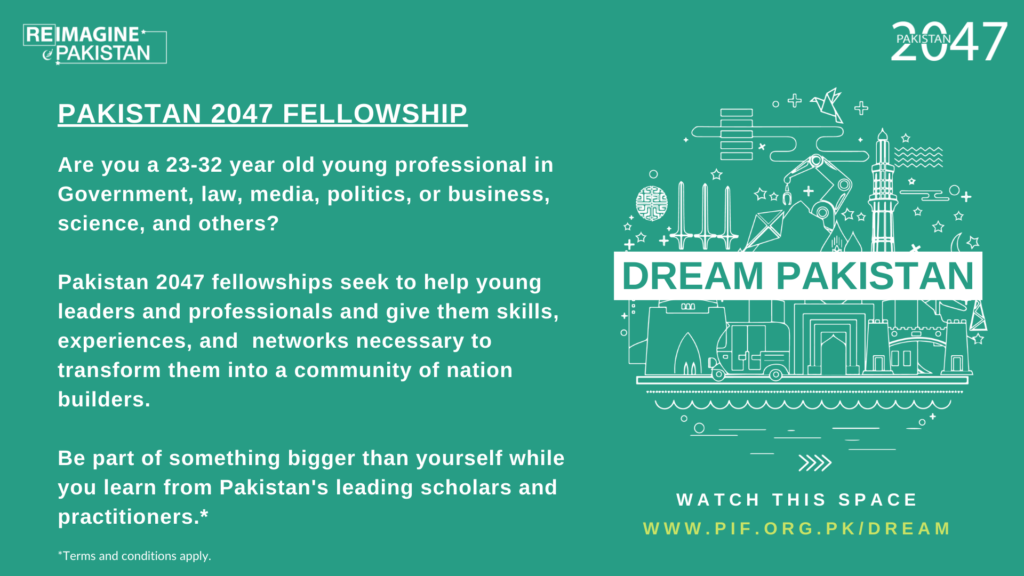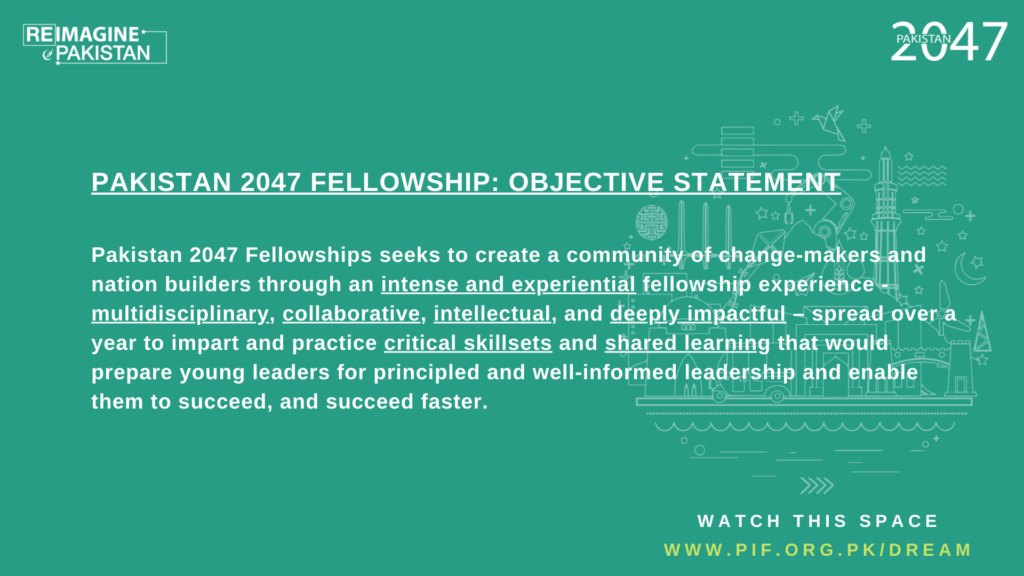 As the unfortunate events unfold before us in Afghanistan, serving as a stark reminder of how things could go wrong and what might happen as a result – we not being immune in any way to bad (or worse) outcomes in the past – it is time to redouble our efforts to take this country forward transform Pakistan into a stronger, more cohesive, more developed, scientifically advanced, just, tolerant, and humane country.
Achieving the true potential of Pakistan and Pakistanis by 2047 will require a tremendous national resolve and a different beat of development. But more importantly, it will require a younger generation of grassroots leadership with vision, knowledge, compassion, values, and dedication to the cause.
ARE YOU A 23-32 YEAR OLD YOUNG PROFESSIONAL in Government, Law, Media, Politics, or Business, Science, and other Disciplines?
Pakistan 2047 fellowships seek to help young leaders and professionals and give them skills, experiences, and networks necessary to transform them into a COMMUNITY OF CHANGE-MAKERS AND NATION BUILDERS.
PAKISTAN 2047 FELLOWSHIPS seek to create a community of change-makers and nation builders through an intense and experiential fellowship experience – multidisciplinary, collaborative, intellectual, and deeply impactful – spread over a year to impart and practice critical skillsets and shared learning that would prepare young leaders for principled and well-informed leadership and enable them to succeed, and succeed faster.
UNIQUE FEATURES OF THE 2047 FELLOWSHIP
Pakistan's first and only fellowship that prepares you for a career in public service (politics, law, media, government, etc.) and nation building.
Hands-on skill-building, access to and mentoring by knowledgeable and experienced accomplished. scholars, leaders, and practitioners
5 Modules taught at leading institutions by most exceptional faculty in the country.
4 Months of support and handholding during an Impact Project
Opportunities for internships and placements with Pakistan's leading organisations, causes, leaders, and professionals.
Access to additional events, webinars, networking sessions, and more.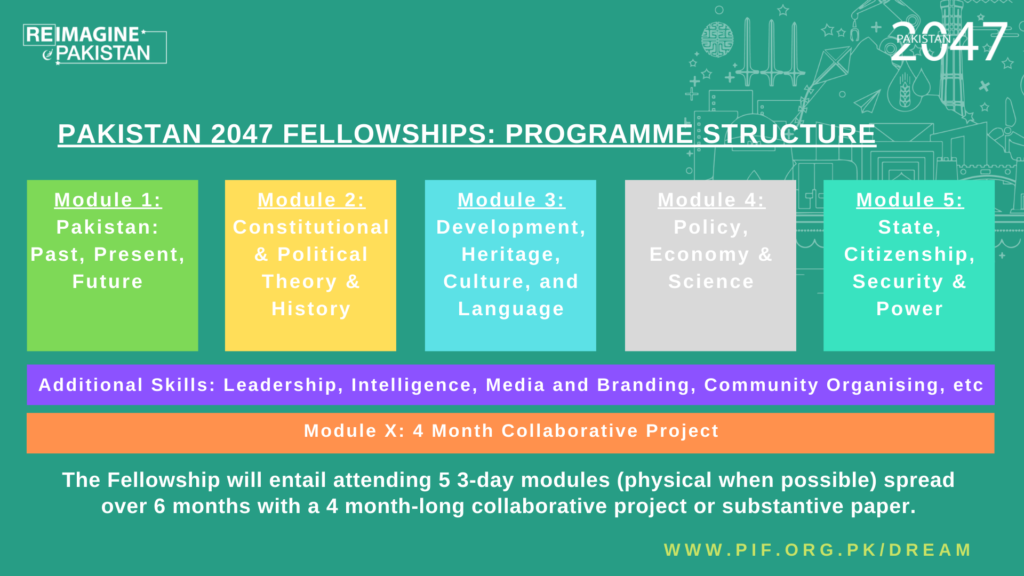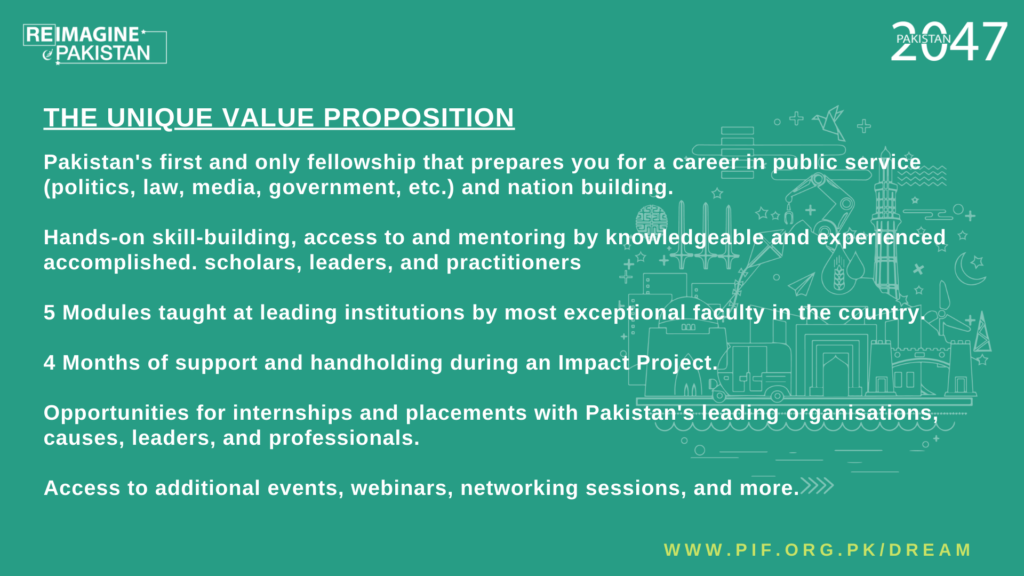 The Fellowship will commence from mid-December 2021 and will run over 5 3-day weekends over 6 months (excluding Ramazan). These 5 Modules for 2021 will be conducted virtually (physical, if circumstances allow). This shall be followed by a 4-month Collaborative Project that allows Fellows to apply their learning to their professional lives.
Fellows will also become part of a bigger and growing community of practitioners geared towards public service and will also have access to future events as well as additional capacity building opportunities.
The cost of participation in the Pakistan 2047 Fellowship is a highly subsidised PKR 50,000/- (or 50% of fellow's gross monthly income, whichever is lower).
Additional financial support in cases of extreme need and/or travel bursaries may be available on a case by case basis.
APPLY BEFORE OCT 15, 2021 here for your chance to join this community of future leaders.
Be part of something bigger than yourself while you learn from Pakistan's leading scholars and practitioners.
– END OF ANNOUNCEMENT –
PAST WORKSHOPS: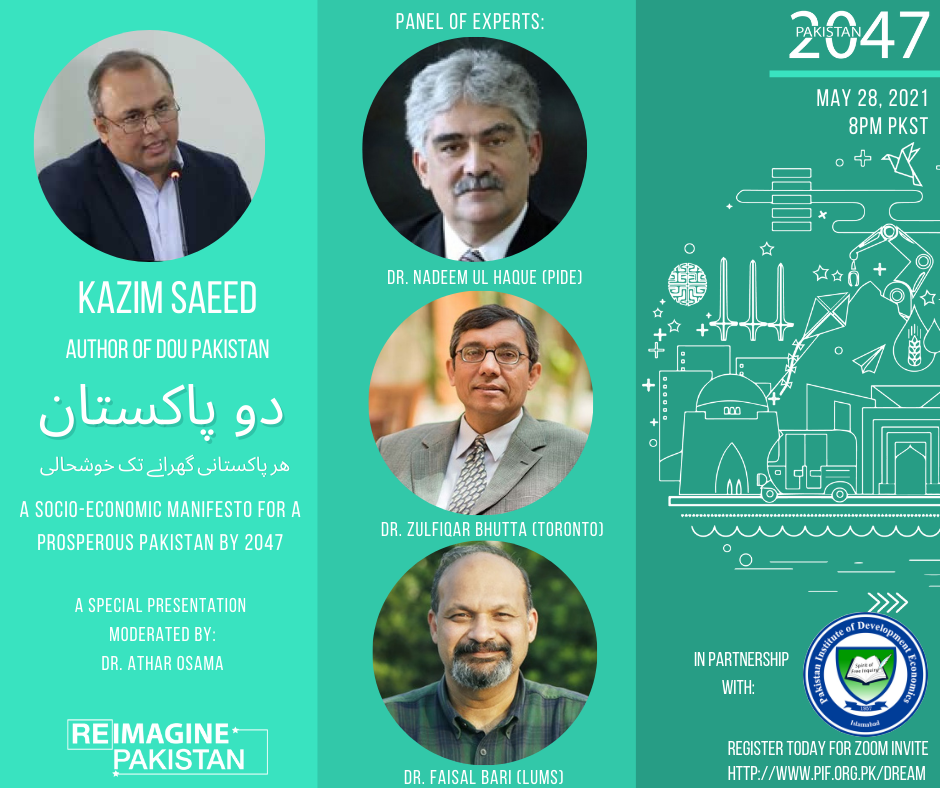 (Register Below)
COMPETITIONS & GRANTS: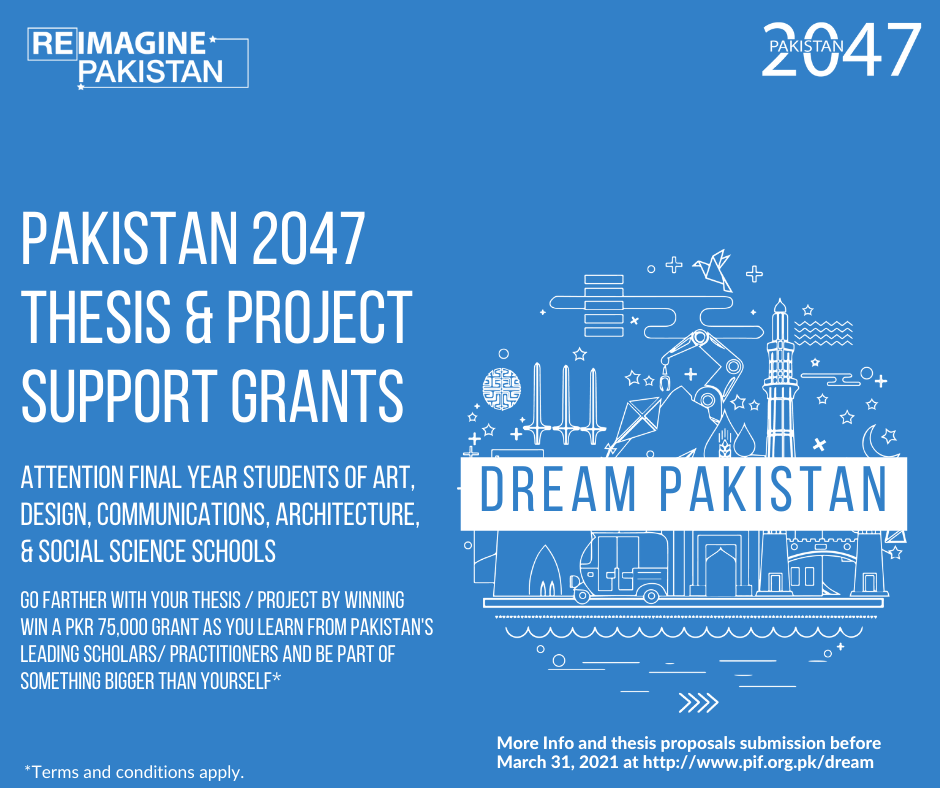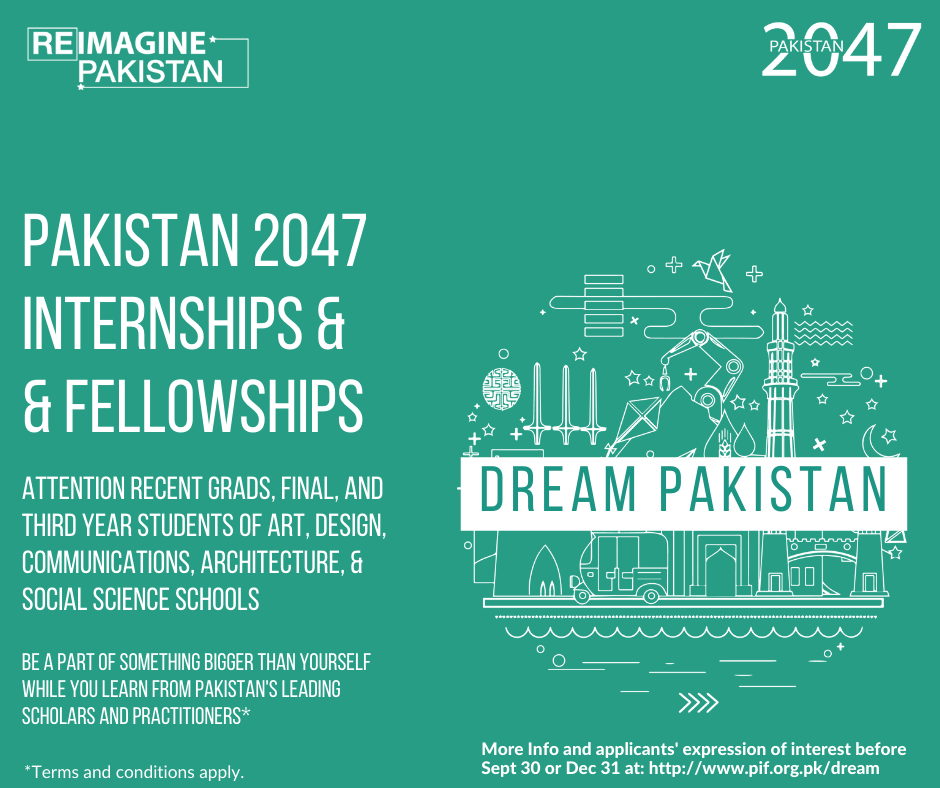 THESIS & PROJECTS GRANTS             INTERNSHIPS
—
NOTE: By submitting your information through this form, you agree to allow PIF (or its partners) to share information and invitations for future events and activities with you. We will not, however, share your information with anyone for any other purpose, except as required by Law.
—
PREVIOUS WORKSHOPS:
DOU PAKISTAN: A Conversation with Kazim Saeed
FUTURE 101: HOW TO THINK ABOUT PAKISTAN in 2047
Presenting the 2nd Workshop of the DREAM PAKISTAN Initiative.
FUTURE 101: HOW TO THINK ABOUT PAKISTAN IN 2047 by Prof Sohail Inayatullah – one of the foremost authorities in Future Studies and a UNESCO Inaugural Chair in Future Studies at Tamkang University in Brisbane, Australia.
The session will run from 12:00 noon to 1:30pm PKST (GMT+5) and will comprise 45-60 minutes of a talk followed by a Q&A. The talk will focus on introducing new ideas, tools, and frameworks for thinking about a futuristic view of Pakistan.
The purpose of this series of workshops is to build a community of futuristic thinkers and planners in every discipline who can begin to conceptualise and dream of a different Pakistan in (not-so) distant future.
LETS DO our part in re-imagining a different Pakistan! And take charge of building an inclusive coalition of actors to help co-create a shared Pakistani Dream.
JOIN US, on Sept 16, 2020 from 12:00 noon to 13:30pm to help co-create a new Pakistani Dream!
REGISTER TODAY for the invite only FUTURE 101 Workshop at: http://www.pif.org.pk/dream
JOIN THE MOVEMENT at: Pakistan 2047 – An Alternative Future for Pakistan.
DON'T MISS this opportunity to become part of something bigger than yourself.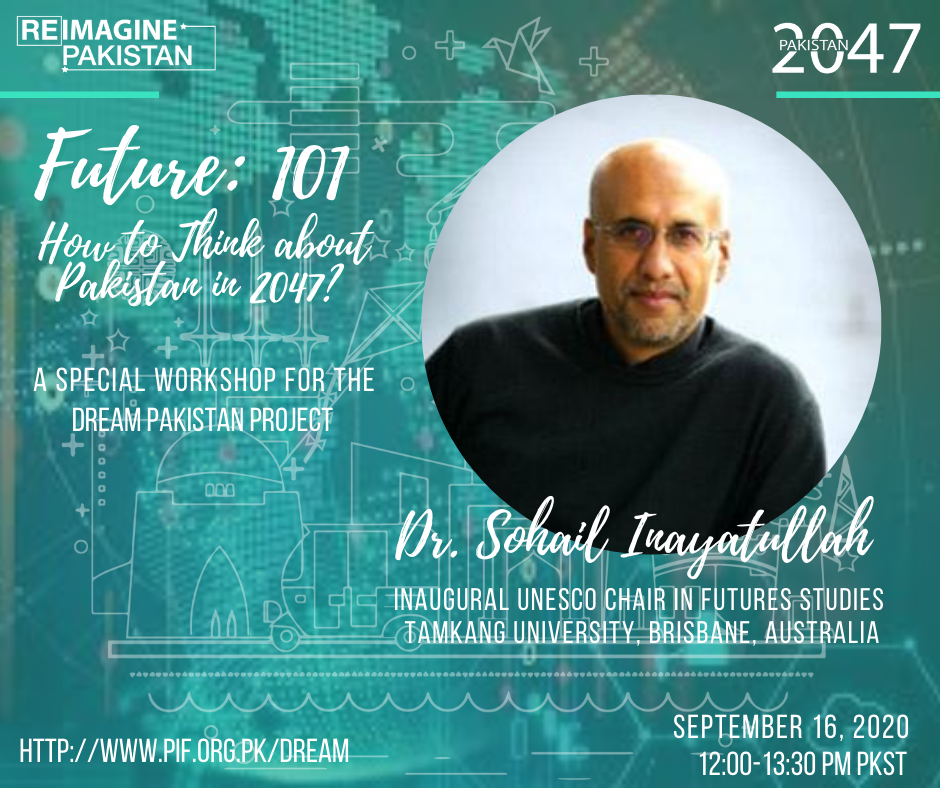 DREAM PAKISTAN WORKSHOP
If you can't dream it, you can't build it! So, what you are going to build? Pakistan 2047 is a apolitical, non-partisan, non-religion group of Pakistanis seeking to create a better Pakistan by the time the country celebrates its 100th birthday!
Pakistan 2047 is coming together with Pakistan Innovation Foundation (PIF) and Pakistan Institute of Development Economics (PIDE) and other partners to bring to you a special DREAM PAKISTAN Workshop with Peggy Liu, the Chairperson of JUCCCE (the organisation responsible for greening of China). Peggy is widely known as the Green Godess of China and the creator of the 'Chinese Dream.'
Come join us, this Independence Day August 14, 2020 to Re-Imagine Pakistan!
(Scroll Below to Fill Out the Form to Participate)