STEMx
In collaboration with
PAKISTAN INNOVATION FOUNDATION
presents
STEM 3.0 – Summer Research Internships for Talented High School Students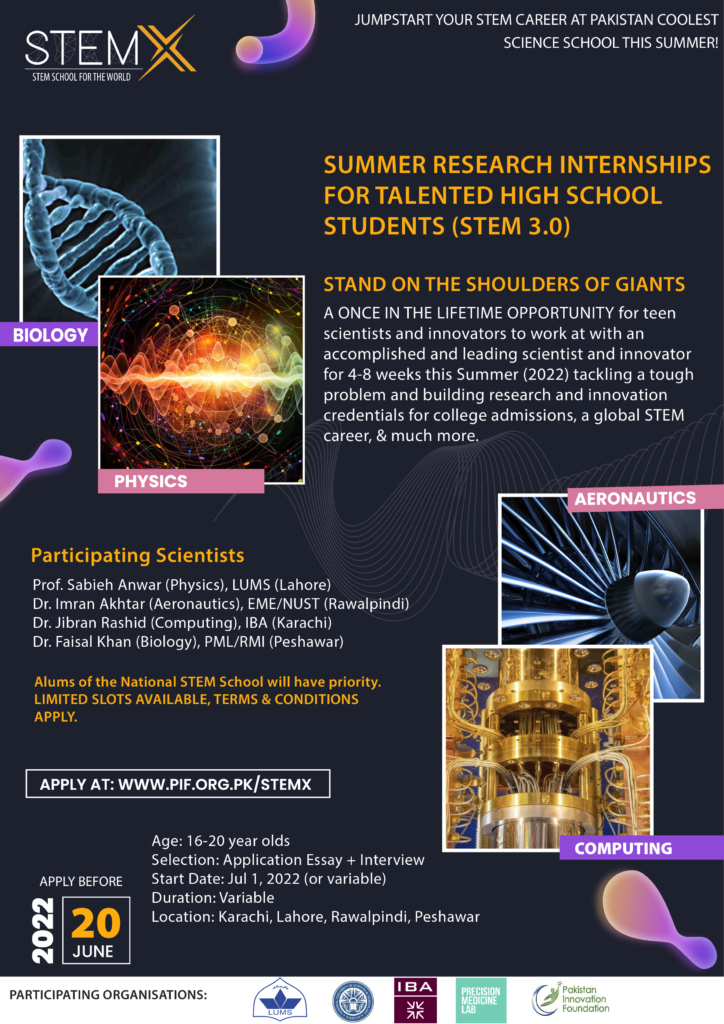 Scroll below to fill out the form.
STAND ON THE SHOULDERS OF GIANTS – A ONCE IN THE LIFETIME OPPORTUNITY for teen scientists and innovators to work at with an accomplished and leading scientist and innovator for 4-8 weeks this Summer (2022) tackling a tough problem and building research and innovation credentials for college admissions, a global STEM career, & much more.
Participating Scientists for Summer 2022.
Prof. Sabieh Anwar (Physics), LUMS (Lahore)
Dr. Imran Akhtar (Aeronautics), EME/NUST (Rawalpindi)
Dr. Jibran Rashid (Computing), IBA (Karachi)
Dr. Faisal Khan (Biology), PML/RMI (Peshawar)
Alums of the National STEM School will have priority. LIMITED SLOTS AVAILABLE, TERMS & CONDITIONS APPLY.
Age: 16-20 year olds
Selection: Application Essay + Interview
Start Date: Jul 1, 2022 (or variable)
Duration: Variable
Fee: There is no programme fee. Students will be responsible for paying for the travel, living costs, and incidentals, etc.
Location: Karachi, Lahore, Rawalpindi, Peshawar
JUMPSTART YOUR STEM CAREER AT PAKISTAN COOLEST SCIENCE SCHOOL THIS SUMMER!
* Terms and conditions of the international competition apply.
Undertaking: By filling out this form, you are agreeing for National STEM School, and its partners, Pakistan Innovation Foundation, to hold your information securely on its servers for an unlimited period of time and to share information about upcoming opportunities and courses that may be of interest to you. NSS or PIF will not, however, share this information with any third party for any purpose, except when required by law. 
—
PAST PROGRAMMES:
STEM 3.0: A Once in a Lifetime Research Internship Experience for Teen Scientists